It's the last week of the year.
Hip hip!
Time to look back at all the deliciousness that came to life in 2022! This is essentially my recipe version of the Spotify Top 10 – showing off what was most made, most eaten, and most thought about in my food life this year.
It's hard to choose when you love all your children, but there were some clear favorites for me this year. Here's my top 10 list of new recipes in 2022!
---
1. Smash Burgers with House Sauce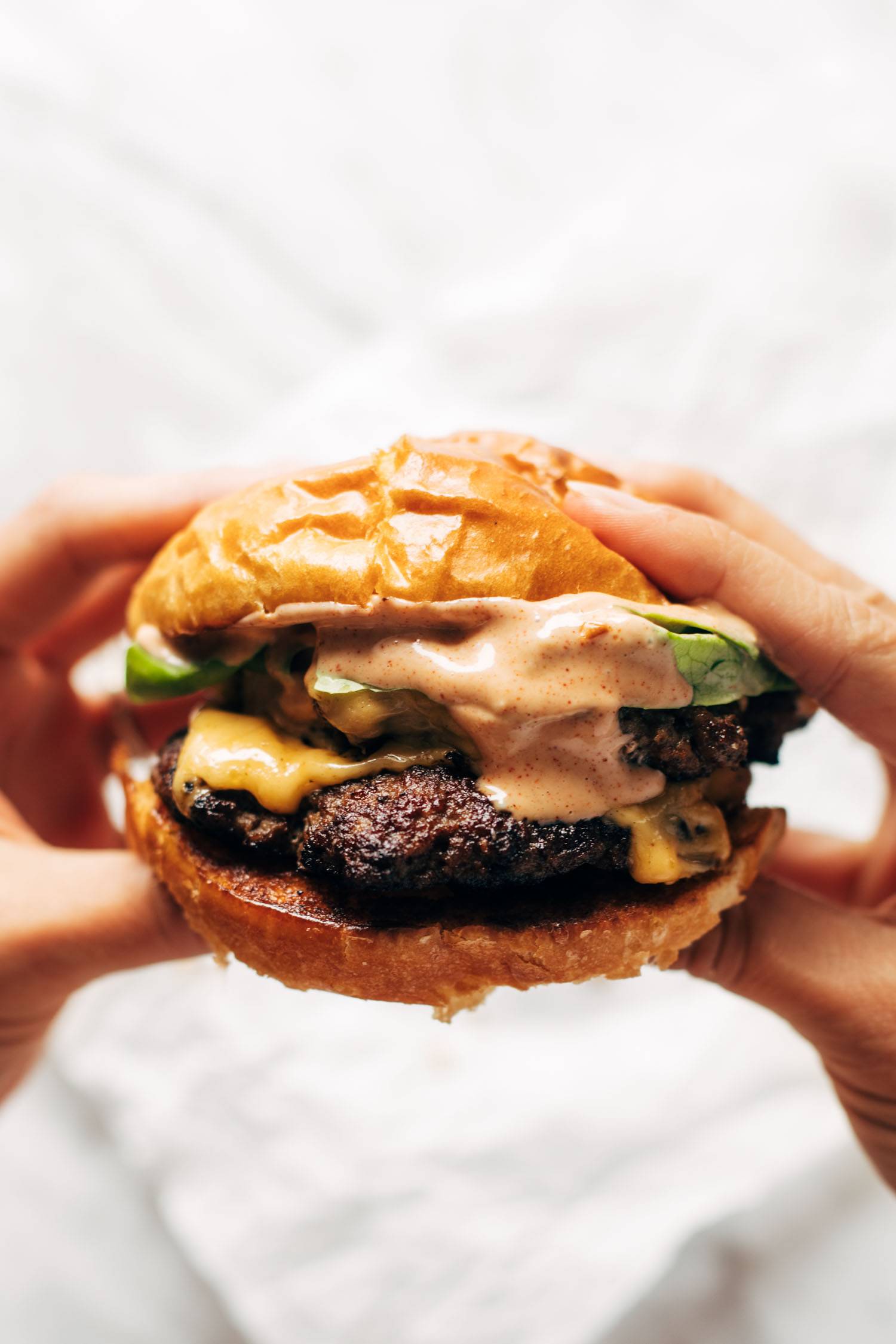 This is an absolute burger-game changer that is quite literally smashed on a very hot griddle and quickly seared to a stunning crisp. Do not sleep on adding a swath of the zippy house sauce magic. Get some crisp lettuce leaves up in there, maybe a juicy tomato slice, and oof.
It's perfectly juicy, full of unbelievable flavor, and gets a BIG 10/10 from me.
I bought a Blackstone griddle just for this recipe!
---
2. Pistachio Loaf
Pistachios are already just so special and then they became a beautiful breakfast / brunch / afternoon snack loaf cake, and it was even more special. This is such a happy treat!
I made this one SO MANY TIMES to share with friends (and… myself) and I have never had so many people text me with raving reviews.
---
3. Saucy Gochujang Noodles with Chicken
Thank you gochujang sauce for blessing our kitchens this year. If you can handle this, I would describe this as spaghetti meets stir-fried noodles meets gochujang. It is weirdly family-friendly (just scale back the gochujang for less heat) and my girls actually really enjoyed it.
---
4. Cauliflower Orange Gnocchi
This is my at-home version of a Minneapolis need-to-have-when-you-are-in-town at a restaurant called Bar La Grassa. Tiny pieces of gnocchi that are like actual pillows with little bits of supremely thin roasted cauliflower slices plus a light coating of creamy, slightly orangey sauce with a handful of chives over the top. A rare and unexpected gem in a bowl that is landing in my forever files after this year!
---
5. Ginger Peanut Chicken with Coconut Rice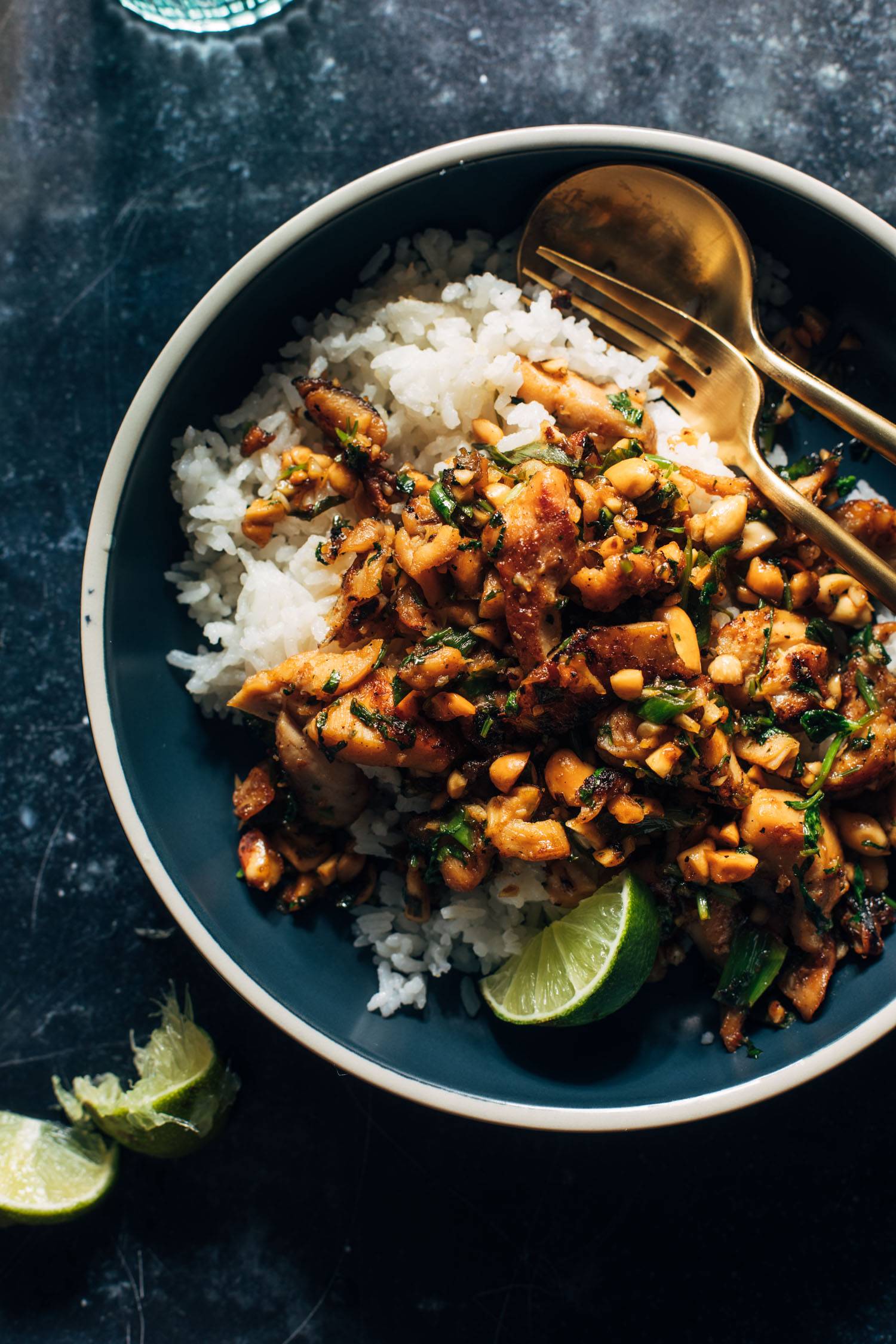 Y'all loved this one! (And me too!) So many incredible pictures of this "ginger-spiked chicken sitting on fluffy, coconutty rice" combo were shared on Instagram – and for very good reason. So SOS-friendly, very big flavors, and just an A+ eating situation all around. The lime drench, the fresh ginger, the bright cilantro, the crunchy peanuts – BIG WINNER!
---
6. Instant Pot Spicy Short Rib Noodle Soup
This star was part of our February Fun Series, and those slurpy, spicy noodles really do pack the fun! I'm not a huge beef person but DANG. Those short ribs are fall-apart incredible! Add bright sauteéd spinach, a sprinkle of sesame seeds, a swizzle of toasted sesame oil – slurpy, spicy, and glorious.
---
7. Cauliflower Black Bean Tostadas with Queso and Pickled Onions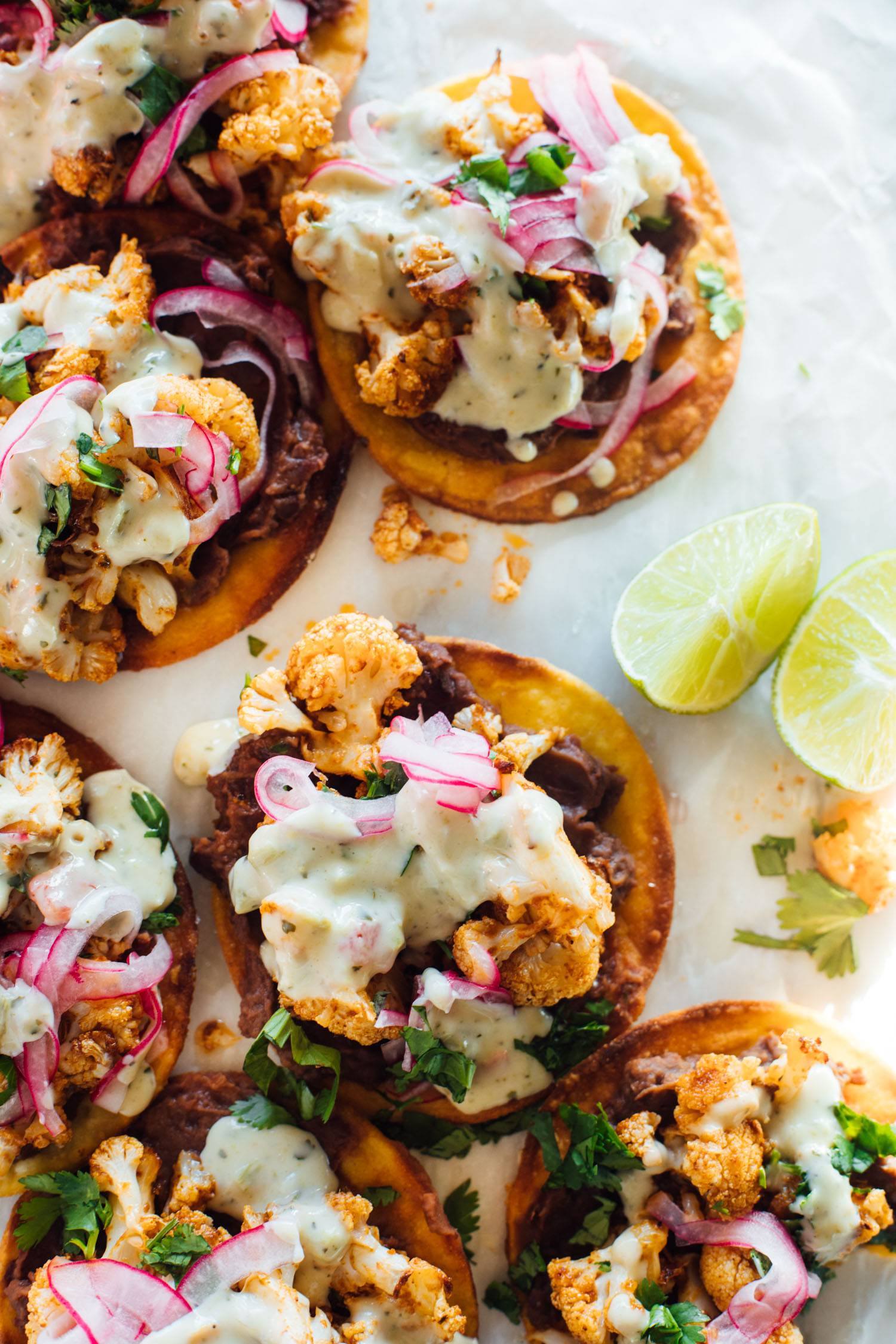 I would say I think about this recipe about once / week. I just loved it so much. A quick-fried tostada topped with creamy refried beans, seasoned and roasty cauliflower, tangy pickled onions, and a drizzle of your favorite queso. WHY IS IT SO GOOD. I have eaten them cold, leftover, for breakfast. Thank you, black bean tostadas, for saving dinner. Thank you!
---
8. Ang's Chicken Wraps
If I could sum up my summer lunches in one photo, it would be this. These wraps are a quick and delicious lunch with not one but TWO sauces. Shredded chicken, crispy cheddar cheese, fresh tomatoes and corn, a bit of lettuce, pickled red onions, and you have a lot going on in the best kind of way. Another goodie from Ang, so you know you won't be steered wrong.
---
9. Crispy Chicken Tikka Bowls with Mint Sauce
Hello, hello! Flavor parade coming through! These were just fun and super textured and flavorful and that's why I loved them. Crispy chicken tenders brushed with your favorite tikka masala sauce and roasted to a perfect crisp. There's fresh cucumber crunch in the bowl alongside a creamy slaw and some quick pickled onions, all piled high on a bed of nutty quinoa and the most drinkable mint sauce over it all.
---
10. Kimchi Grilled Cheese
HOLY SMOKES I made these a lot, too. Golden-brown pan-grilled slices of sourdough, the meltiest of melty cheeses, and a smoky-meets-caramelly-meets-jammy kimchi and bacon filling. And, of course, the great question here of what will get you that golden exterior on your grilled cheese ensued on Instagram – is it mayo or butter? (It's mayo.)
---
That's a wrap! Share below – what were your favorite POY recipes of 2022?
The post My 10 Favorite Recipes from 2022 appeared first on Pinch of Yum.